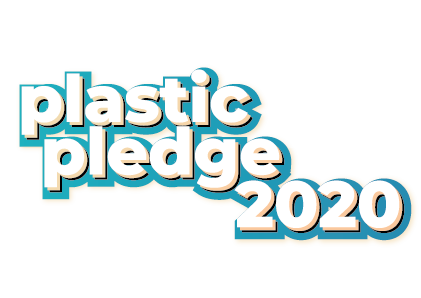 We want to do our part to help reduce plastic waste and limit the amount of single-use plastic we use when picking, checking and packing your orders.

We're also keen to ensure as little material (plastic, paper and cardboard) as possible is wasted or thrown away, and what little does need to be disposed of is recycled responsibly, as it is now.

Our new plans for this year follow the basic principals of minimising unnecessary waste:
Reduce • Re-use • Recycle
Check out our August 2020 Plastic Pledge Update here
Reduce:
Plastic bags - We will significantly reduce the number of single use plastic bags we use when processing your orders. We identify this to be by far and away the biggest contributor to unnecessary plastic use in our business today. We have already started testing paper-based alternatives to ensure your goods are transported securely without the need for plastic bags.
Box tape - Our current box tape is plastic-based and should be removed and disposed of before recycling the boxes we use when sending your orders. We will replace this non-recyclable tape with a paper-based tape that can be left on the empty boxes and be recycled, or can be removed and disposed of with other bio-degradable waste. We are currently testing a few different types of paper-based tape to ensure they are strong enough to secure even our heaviest parcels, but the results have been very positive so far and we hope to fully make the switch soon.

Re-use:

Plastic bags - Many of our suppliers still use a lot of plastic bags when they pack up our orders, most of which currently does not get re-used. While we know it will take time for single-use plastic to be eliminated completely throughout our whole supply chain, we endeavour to re-use as many plastic bags as possible to reduce our single-use plastic bag consumption dramatically.

Recycle:
On-site recycling facilities - We currently do not dispose of any cardboard at all, it all gets re-used or recycled in one way or another, but there is more we can do to ensure this is the same for plastics. We are currently working with our waste and recycling partner to increase our current recycling capacity for all plastic waste that cannot be re-used on site.
Our 2020 Pledges
Reduce our single use plastic bag use by at least 75% for the period between now and 1st April 2021, compared with the same period the previous year
Completely eliminate the use of plastic-based tape on boxes we despatch before 1st September 2020
Zero recyclable plastic waste to go to landfill from any part of our operation by 1st April 2021 - every piece either gets re-used or recycled
We are fully committed to our 2020 Pledges and will be transparent about our progress with updates throughout the year. We will also be working with our suppliers and asking them to look at ways they can minimise their unnecessary use of plastics when packing up our orders.
As always we appreciate any feedback or suggestions about any of our services and operations. If there's anything you'd like to tell us, please get in touch using the contact forms on this website or email james@hwos.co.uk
Many thanks, Team HWOS.